Dave Duarte
Member Profile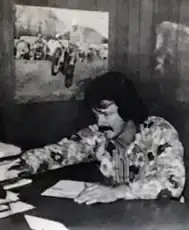 I was born in Auburn, CA. and was raised in Loomis, CA.on a 40 acre fruit ranch. I have four brothers, Richard, Edward (deceased), Frank, and Donald and two sisters, Linda and Donna.
At 7 or 8 years old, I was driving vehicles on the ranch. We had an orchard truck, which was a Ford model A flat bed truck, a farm tractor, and caterpillar tractors. I would work tilling fields, cultivation, and digging ditches around trees. The trees were irrigated and the ditching was important in getting the water to each tree. We grew peaches, plumbs and pears.
At the age of 15, I was working one of the local farms making wooden crates (400 to 500 a day), I would dump the fruit on the conveyor belt and the women workers would pick though the fruit and pack them into baskets. The baskets would then be put into the wooden crates. I would load the boxes onto a flat bed truck and take them to the fruit shed in Loomis for transport by rail.
My first motorcycle was a 1947 Cushman Eagle – I couldn't keep it running. That was around 1953. It had a 2 speed shift on the side. I paid for it from the money I earned working the ranch and neighbor's farms. I was 12 years old at the time. I would drive it all over the place when I could get it running.
I graduated from high school in 1959 and I was working for my uncle in construction building homes for about year and half. I got married in 1960 to Joyce. We had 5 children, all girls, Roxanne, Julie, Carrie, Kimberly, and Marcey.
After working the construction job, I went to work at Aerojet, a manufacturer of rocket engines. I started out doing plating and chroming, then later I became an inspector for the rocket engines using magaflux and die penetrant – checking for cracks. I worked there for about 4 years, then Aerojet had a massive layoff, and I was let go.
In 1964 I got divorced and joined the merchant marines where I traveled to the orient, South America, and Alaska, on an oil tanker. It was very hard work. I would go out for 3 months, come back 3 months and then pick another ship. Over time you would build up seniority. I did this from 1966 to 1969. While home on leave I would race motorcycles. It was one of the best things that I did in my life. I was very good at racing as long as I didn't fall off, however working on the ships for 3 months slowed up my racing career.
The local motorcycle shop in Loomis was Genes automotive Suzuki. He opened this shop in 1961 strictly for automotive repair. In 1964 he became a Suzuki dealer. He was one of the earliest Suzuki dealers in California. Lars Larson set him up as a Husqvarna dealer in 1967 and then Pentons. I hung out there all the time. My first real bike was a brand new 1965 Hodaka Ace 100. I stripped off all the lights and made it into a race bike. I raced all the races 2 times a week – mainly TTs and rough scrambles. I rode for a couple of years until 1967 when I started riding a Husky 250s in TTs, rough scrambles and then MX. I was a shop-sponsored rider for Gene. Bill Onga was Gene's chief mechanic, who won the 1969 Elsinore Grand Prix. So, Gene was a good rider and an excellent mechanic. Gene and Bill prepared the bikes and I rode them. Gene and I were good "mud runners". I purchased my motorcycle at their cost and they would prepare it. Sometimes they would have a different bike for me to race. I raced mostly Huskys until the Penton motorcycles arrived.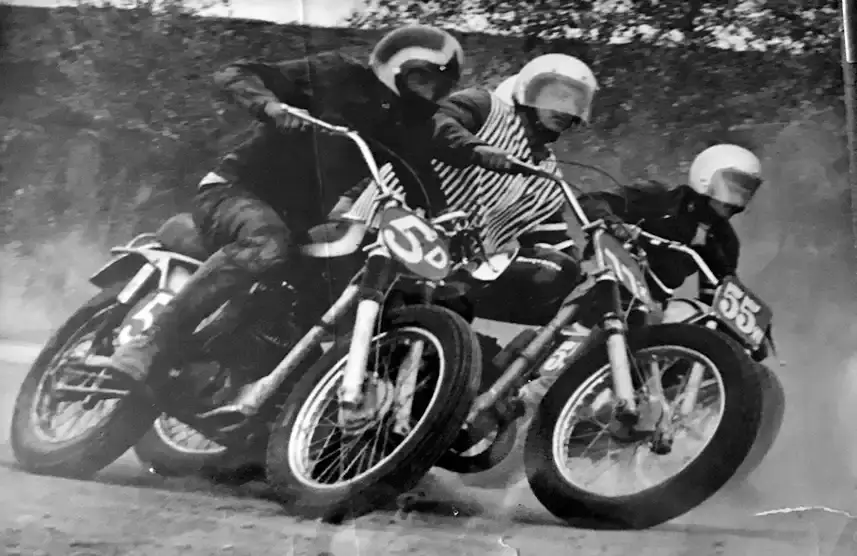 In 1967 I was one of the 12 founding members of the Dirt Diggers M/C club in Northern CA. The club is still going on today. I went to the 49th consecutive national Hangtown MX this year. We put on the first Hangtown MX race in January 1969. We had all the top riders, Gary Bailey, Dick Mann, John DeSoto, Ronnie Nelson and others. We offered a larger purse than what the AMA would offer for their nationals, so we went outlaw. This was a big money looser for the club as it rained (really bad weather) and we had to pull all the spectators cars out of the mud after the race. We made up for the loss later in the year where there was better weather and a much bigger crowd. Next year will be the 50th anniversary of the Hang Town race.
Before the Penton motorcycle, I worked for Aragon Distributing in Monrovia, CA. They sold motorcycle accessories and I worked as a salesman for them. My sales area was from Reno, Nevada to San Jose, CA. I worked there from late 1968 to early 70. During this time period my leg got busted by Donnie Emler, the owner of FMF Racing at Mammouth Mountain MX track. (Donnie built motorcycles and was a great tuner which led him to building exhausts). I was riding my Penton leading the pack and I fell in an off camber turn. Donnie was on an American Eagle and ran over my leg while I was picking my bike up. This put my racing on hold until I healed up. I still did my work at Aragon during the time it took my leg to heal. That was one of the many bones that I had broken during my racing career. Back in those early years, there was very little protective gear to wear for racing.
Lars set Gene up with the Penton franchise (in 69). They then provided Penton 125 steel tank Pentons for me to ride.
Lars handled the NW distribution of Pentons out of El Cojone for Torson Hallman Racing (now called THOR) for a short time until they they decided that they only wanted to sell clothing to the dealers. The distribution of the Penton motorcycles was then picked up by Fred Moxley some time in 1969, located in Medford, Oregon.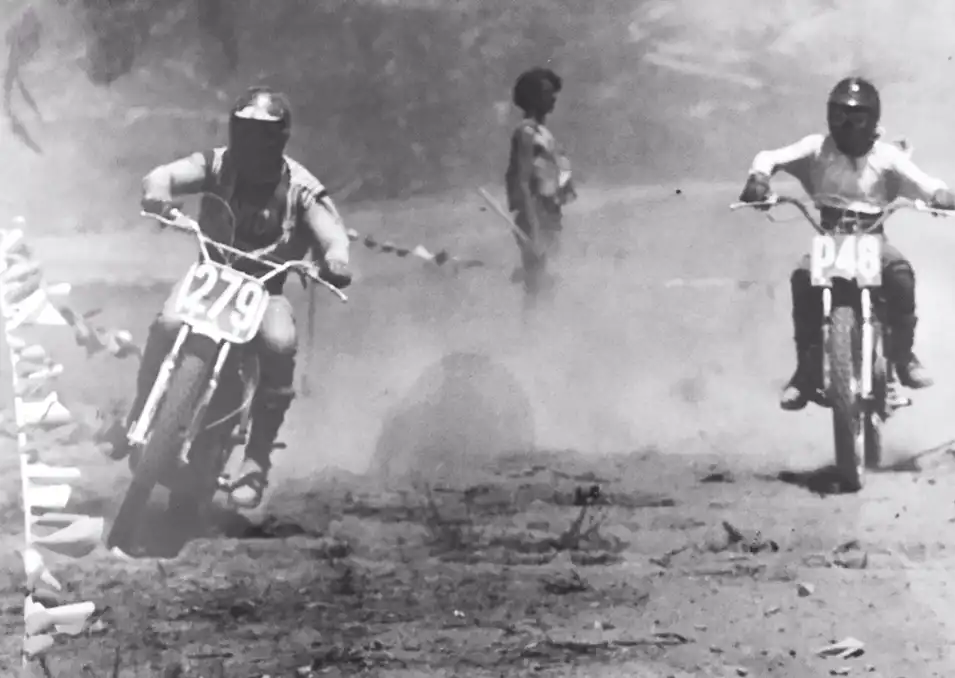 In 1970 Fred Moxley brought Penton motorcycles from Medford, Oregon to Sacramento for west coast distribution in California, Washington, Oregon, Alaska, Nevada, and Montana, This led to a better ride for me, for I was now sponsored by Fred Moxley. I received no money, just a new bike to race. I won a lot of trophies. I rode for fun and got to go to a lot of places to race MX, enduros, cross country, and desert races. There were a lot of desert races in Nevada that I went to. I shied away from MX races because you mostly waited around for your class to race. In desert racing you rode for 3 or more hours straight. I rode a lot of desert races and enduros. I began to like riding most of the day and not waiting. Even though I was still riding Pentons, I also rode Puch 125s.
There were 2 different distributors for Puchs on the West Coast – Ted Lapadakis and John Penton for a brief time. In 1972 or 73 I was working for John Penton selling Puch 125 & 175s. They were good and fast and I set up a lot of dealers with them. There was a war going on with them (Puchs) here because of the 2 distributors. Ted Lapadakis was both Puchs and DKW distributor on the West Coast in Southern Cal. DKW was Penton's biggest competitor on the West Coast.
In 1970. I was hired by Fred Moxley as a parts warehouse manager. I was then put on the road as a Penton rep for the West Coast, setting up new dealers and servicing existing dealers. In 1973 I was brought in as assistant manager for the warehouse. Fred taught me the whole business.
The warehouse was stocked mostly with just parts and accessories. There were rarely any Penton motorcycles in stock. The bikes were sent from back east to the trucking companies in containers. Fred and I would then go to the trucking company, open the containers and then put shipping labels on the crated bikes for shipment to the dealers. West Coast Dealers were always complaining because they could not get enough Pentons to sell especially the 125s. When the 250s came out we had some of those initially stocked in the warehouse.
We had Wassel Mudlarks to try and sell on the west coast. We had trouble selling them here just as John had trouble selling them back east. We would set up new dealers with the "package deal". John did not load us up with them. We had no more than 40 or 50 and this allowed us to get rid of all of them pretty fast.
I first met Carl Cranke at 3 Sar Raceway in the Sacramento neighborhood where we raced dirt track. Carl was sponsored by Marion Pyle (called the "Big O") Orangevale Motorcycle Center in Orangevale, CA. I was a novice and Carl was working his way up to becoming an expert. We would see each other at all the races. Because of Carl's reputation as an excellent mechanic and go fast racer, Fred hired Carl in 1971. Carl wrote technical manuals and would troubleshoot problems for dealers. He had a whole service shop set up for this. We took good care of all the west coast Penton dealers. It was Fred who recommended Carl to JP to consider him for become a Six Day rider.
In 1974 my life changed when I got custody of my kids. This was also the same time when the deal was made to turn over distribution of the Penton motorcycles in CA. to KTM.
Fred decided to leave and he opened a Mexican restaurant in Oregon. Fred mentioned me to John Penton to take over the warehouse operation (in Sacramento) for Hi-Point products. There were no more Penton Motorcycles to be sold on the west coast, they became KTM motorcycles. The distribution of the KTM motorcycles and parts was taken over by Ted Lapadais at his warehouse. This was a confusing time period. At the races there would be bikes branded with KTM and some with Penton. Some racers would remove the KTM decals and put Penton decals on their bikes. Other racers would remove the Penton decals and replace them with the KTM decals.
I had the opportunity to attend nine ISDT events as a support rider and working the check points for the Penton Six Day riders. John paid for all my travel expenses to these events. KTM would supply a bike for me to ride. The reason I was able to go to all of these Six Days events was because of my Sales manager Bruce Young. He was my right hand man. He would run the business for me during the 3 weeks that I would be gone.
My very first Six Days event was Camerino, Italy in 1974 where I got to be with all the Penton riders, Frank Gallo, Kevin Lavoi, Jeff Hill, Danny Young, Dave Mungenast and Paul Danik. I had a ball and so much fun at all of them. Previous to the 1974 event, I rode ISDT qualifying events in McMinnville, OR and Bad Rock, OR.
John owned a small car, I think that it was a Fiat, that he kept over in Austria and he would use it to drive around to meet with the manufacturers. I got to go to a lot of places with John in that car after the Six Days events in Europe were over.
I was with John Penton when we met the owner of HIRO. We went to lunch with the owner of HIRO when John made the deal to buy the HIRO motors.
I went to Alpinestars with John and we stayed at Santi's house. Santi did a lot of the designing of the boots himself. The boots at that time were made at his factory in Italy by a lot of women at sewing machines.
I went out to dinner a couple of times with John and Erik Trunkenpolz. Erik was a very quiet guy.
I stayed at Kalman Cseh's house once. Kalman would do the language translation for Erik Trunkenpolz and John Penton. When Kalman left KTM he became a distributor for Scott. He had a warehouse in Austria and I got to tour it.
John did all of the driving in that small car and he drove it fast. I remember us pulling into Paris one night and parking near the Eiffel Tower to get some sleep. It was all lit up and I was all excited looking up at it. I told John that I wanted to go see it in the morning and John said OK. The next morning I woke up with us traveling down the rode and I never got to see it. Traveling with John was straightforward. When we stopped for gas we would buy something to eat. If John would get tired, he would pull over off the road and take a 10 minute nap.
I was at the KTM factory several times. I took photos of the conveyor system where there would be moped and bicycle parts traveling along the assembly lines with Penton motorcycle parts. Drinking beer for lunch and on breaks by the employees was acceptable behavior over there. There were even beer vending machines in the dining hall. I find it funny that there were many times when we would open up a bike crate in California and find beer bottle caps inside.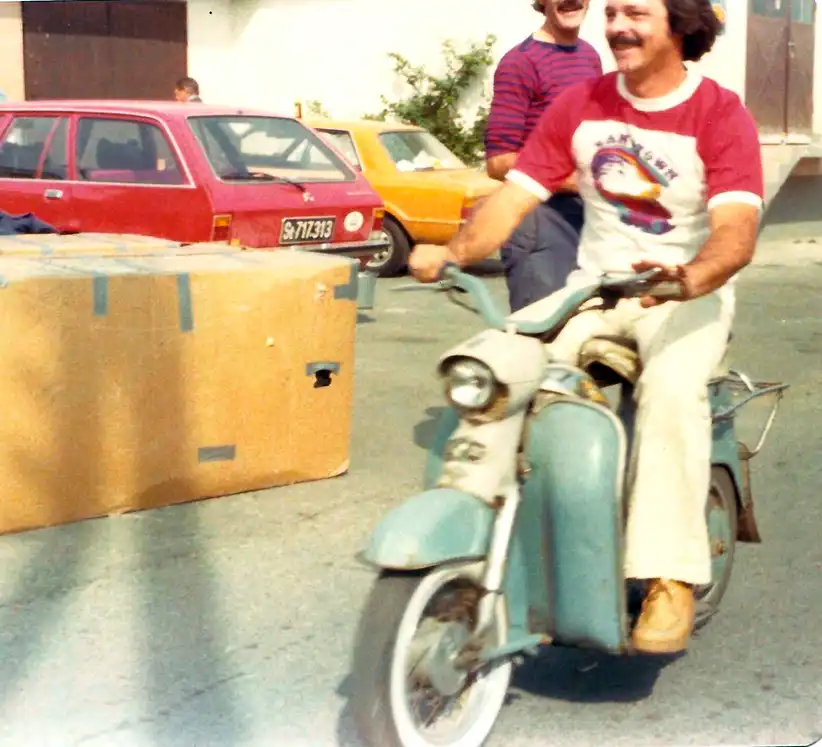 I became the General Manager for Hi-Point Racing Products when KTM took over the motorcycle distribution. We sold all the Penton/Sachs parts off to dealers in bundled deals. All the brochures, and manuals went into the dumpster. Most of the parts for the KTM powered Pentons were sent back to Texas or Ohio warehouses. There were no motorcycles in the warehouse.
No motorcycle parts or inventory were sent to KTM's new warehouse in Southern Cal. We (the West Coast operation) were officially out of the Penton business and into only the Hi-Point business.
When I took over the Hi-Point warehouse, I started making t-shirts, green and gold Penton leathers, jersies and many other items that were sold exclusively on the West Coast. The clothing lines were a good thing for us. The West Coast warehouse was in debt to Penton East (for things like rent and it's share of advertising) and we were able to pay them back what we owed them.
I would go to meetings at the Penton Lorain warehouse to meet with Larry Maiers, Matt Weisman, Elmer Towne, and other key employees to discuss what items were needed. We talked about what we were going to do and this is how many new products were added every year to the Hi-Point catalog.
When I would travel east for the meetings I stayed mostly at Matt and Barb Weisman's house. Sometimes I would stay at John's house and other times at Elmer and Kathy Towney's house.
I met Teddie Leimbach at some Six Day qualifiers and I would see him on these East Coast visits. I was at the Lorain warehouse in 1980 the day that Teddie was in the car crash with the truck. He was a very talented rider. I went to dinners at Pat and Paul Leimbach house during some of these visits also.
I had met Ted Penton back when Fred was distributing the Penton motorcycles and would also see him on my trips to Lorain, OH. He would occasionally show up at the Sacramento warehouse. He was a character. I got to see the prankster side of Ted Penton when he came over to California. We went on a tour of the ship, the Queen Mary, in Long Beach. During the tour we were escorted down into the engine room. When the tour guide continued on, Ted stayed behind and was trying to get one of the engines to start. He did manage to get some of the lights to come on before the tour guide came back and chased us out.
I remember being at a Hi-Point sales meeting in Lorain, Ohio. Larry Meiers, Matt Weisman, Elmer Towney and many Hi-Point employees were there. So here we were discussing products when John walks in. He was wearing his standard uniform, a green sweater, grey pants and mason shoes. His sweater was burnt, his eyebrows and hair were singed. The hair on his hands were also singed and he had an odd look on his face saying, "you would not believe what just happened to me." He was at one of his properties where he had natural gas wells. He was looking down into one of the wells and lit a match. I'll leave it up to your imagination as to what happened. It is a miracle that he did not get seriously burned.
John would have an auditor come out once a year to audit our books. When I ran the warehouse I did it like I owned it. I was frugal with all my expenses with no extravagant spending.
Hi-Point Products sponsored riders like Danny Magoo, Kenny Roberts, Bob Hannah, and Ricky Graham to use Hi-Point products and show the Hi-Point logo on their clothing.
Boots were the most popular item that we sold. We could never get enough and they were back ordered all the time. The crazy thing about the boots was even though they were a big seller, there was very little profit margin in them.
Other popular items were the Hi-Point oils, jerseys pants, gloves, plastic fenders, tires, and Sun rims. We sold a lot of most of the items that were listed in the catalog. There were unique items shown in the catalog that were developed from back east, such as folding shift levers, enduro equipment, magnifying glasses (for holding a pocket watch), route sheet holders, tank bags, and tool bags. Heavy duty inter-tubes were a hot items for us. We would set up a display at the annual Long Beach dealer show to showcase the Hi-Point products.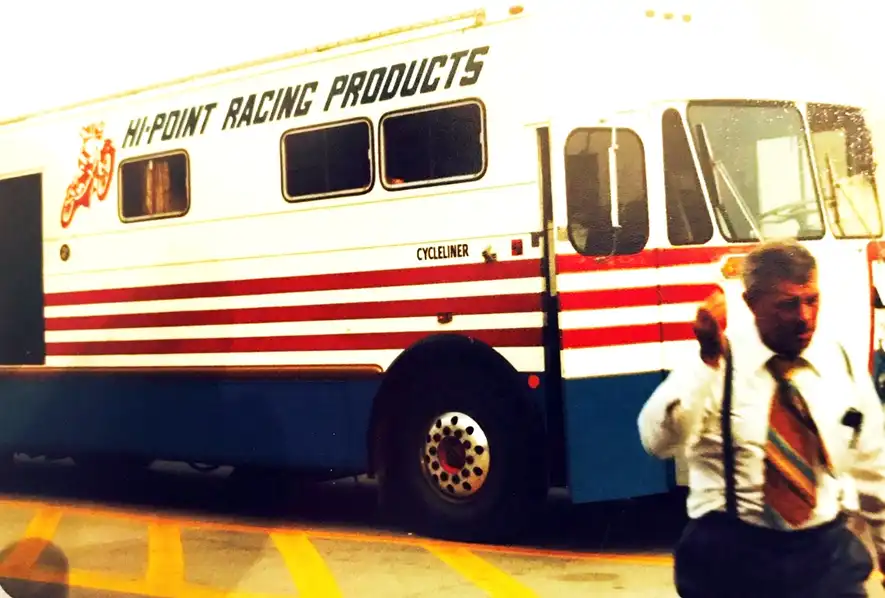 In the early 80s my partner and I built the building we were in and it was our 3rd move. The space was shared with my partner's business. Like the other two buildings, there wasn't enough room for all the new products that kept arriving, but we made it work.
When I built the warehouse. I had to build a special room to house an IBM 3200 computer. It was a huge piece of equipment that was noisy and needed to be air conditioned. I had a couple of great gals that knew how to run it. It's hard to imagine that today's cell phones are faster and have more memory and computing power than that IBM.
I knew Malcolm Smith back in 1971 when he was working at K&N. I would see him at races, qualifiers, and dealer shows. We always called Malcolm "smiley".
In 1988 Malcolm Smith made a deal to buy the Hi-Point product line. The deal consisted of all the existing inventory except the obsolete Sachs stuff that was still around. I worked for Malcolm running the warehouse. Since I owned the building, Malcolm became my new tenant. I ran the whole business for him, buying the products and paying the bills. I would attend regular meetings in Riverside where I would meet with Malcolm and his sales team.
Malcolm had 3 key people, Wayne Cornelius, Jimmy Lewis, and Gary Drean.
Drean was the computer guru and accountant. He supplied new computers for my warehouse when Malcolm took over. Gary flew his own private plane from Riverside to Sacramento to deliver and set up the computers.
Wayne Cornelius was product manager for Malcolm Smith in Riverside. He was a smart designer. He came up with fancy gear, and got us into water sports clothing. Malcolm Smith Racing Products made a re-surge in sales because of this. We got involved with some splashy stuff with the Jet Ski craze.
Jeremy McGrath was sponsored by Malcolm under the Hi-Point name in 1988 before he got picked up by Honda. He was discovered at Mammouth Mountain MX, a ski resort in the mountains NE of LA. This is a big event held every year in June. Riders at that time, who were under motorcycle company contracts, generally were allowed to obtain clothing and gear sponsorships of their choosing.
In 1990 an Asian company (corporate raiders) made a deal with Malcolm to buy Malcolm Smith Racing Products. They took out huge loans on the business and payed themselves lavishly. Their dishonesty wound up driving Malcolm Smith Racing Products into bankruptcy. Rocky Cycles (known now as Tucker Rocky) wound up buying the business at auction. What was left of the inventory at my building was moved to the other warehouse buildings in Riverside and that was when I left.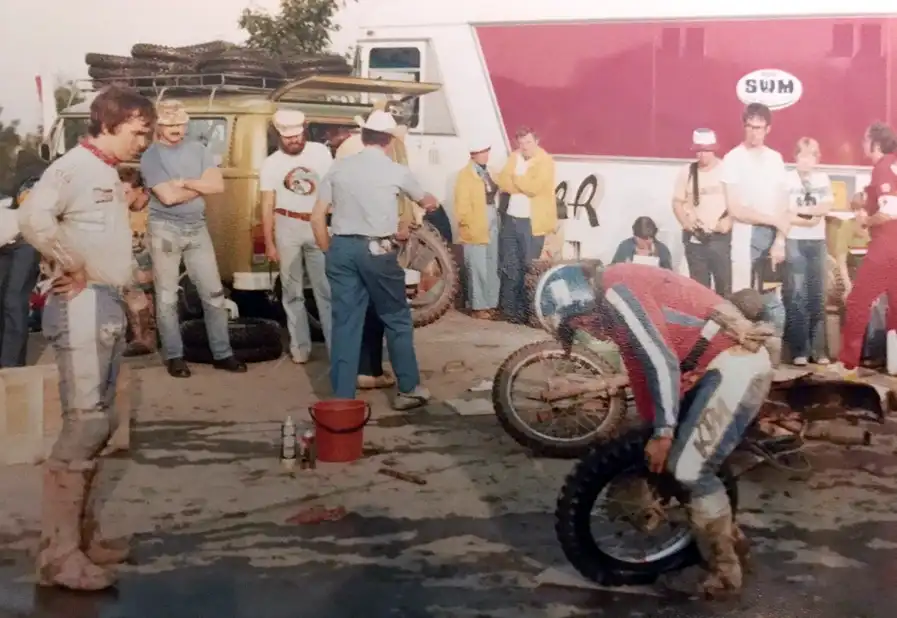 I ended up selling my half of the building to my partner. I did not do anything for a while. I worked for about a year for a friend installing car alarm systems in new cars for dealers.
I then went to work at Seafood Suppliers, Inc. a wholesale sea food business owned by Bill Dawson, who was one of the founders of the Dirt Diggers. He owned a warehouse right on the docks in San Francisco. I commuted to San Francisco for this job staying at his home during the week and traveling back to my house on the weekends (a 2 hour one way drive). His business consisted of buying fresh caught fish from the fishermen, at their boats at the docks. The fish were then taken to his warehouse where they were cleaned, filleted and packed. His customers were all distributors who sold to restaurants. For this type of work, the day generally started at 4 am. I handled the sales, talking to customers, and kept track of the inventory.
To meet our customer's needs, other varieties of fish from the East Coast and Canada were air freighted in, along with oyster and clams from Boston off Cape Cod. Air freighted shipments had to be picked up at the airport to meet our customer's requirements. This would become nerve racking when there would be flight delays.
I did this job for about 2 years. Bill was having some problems in running his business and making a profit. He was in debt and I helped to get things in order and pay off the debt. This was a fun interesting experience for me.
I then went to work with my brother, Frank in construction – mainly fire restoration. I worked in the office with him for about 2 years. It was a very successful business that was sold to our nephew. It involved mostly insurance claims. We were basically fire truck chasers. We would find out where the fires were at and go there before the fire trucks left. We dealt with home owners who were panic stricken and in a state of shock. We would explain to them what was going to happen and that their insurance company would be paying for their stay in a motel until their house was fixed up. We would then get their permission to board up the house. We would then get back to the homeowner with a price quote to fix the house back up. In most cases the insurance company would approve our quote and we would get the job. It was a dirty business, dealing with smoke damage and soot, but it was a fun business.
Up until just recently, starting in 2000, my younger brother Donald and I were buying houses, rehabbing them and then reselling them. My brother was the genius. He had years of experience as a carpenter dealing with dry rot. He could do everything, carpentry, electrical, plumping, drywall, anything and everything except carpeting and roofs. We kept some of the rehabbed properties to rent. We are now down to one last one. He had the talent and I had the money. We focused mainly on foreclosures, bank owned and condemned houses.
I became officially retired in 1999. I did all of these and other things to keep busy and make up for the retirement plan that I never had.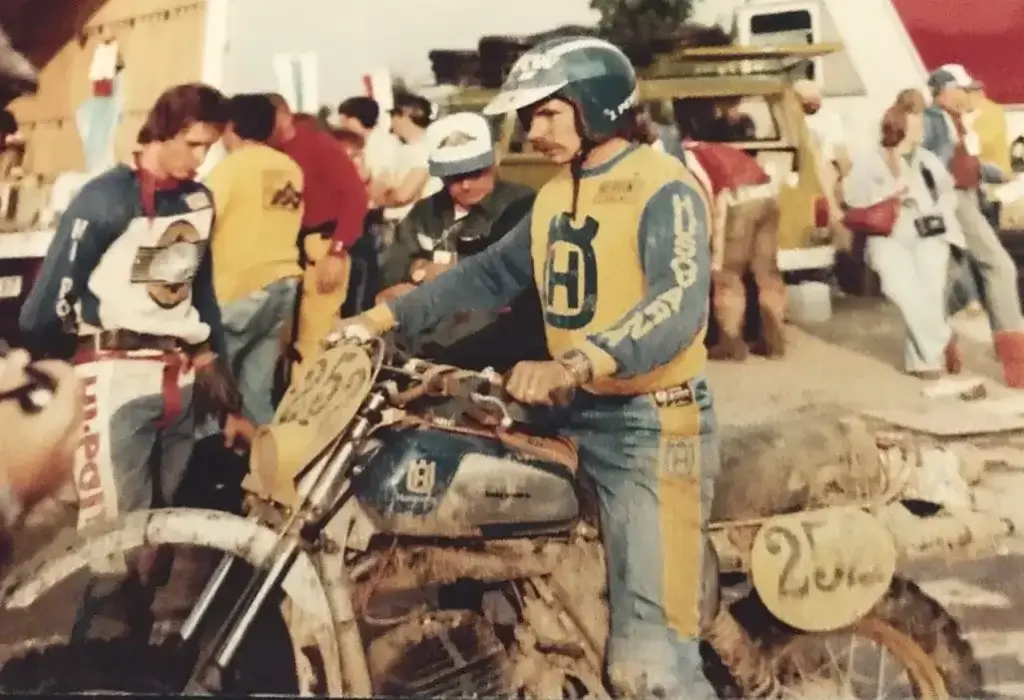 I found out about the Penton Owners Group from Bruce Young at Western Power Sports. I joined in 1999 (member no. 230). I think that it is pretty neat.
I was at the 2000 AMA Vintage Days event at Sears Point where Penton was the feature marque and John Penton was the Grand Marshal. That was a great time. I remember John taking the parade lap around the race track and going the wrong way. I hung around the booth talking with Matt Weisman and even helped sell T-shirts one of the days there. I remember it being a good size event. There was also a cook out at a city park one evening. That Vintage Days event was also the last time I met Jim Pomeroy.
Todd Huffman did a very good job with the making of the John Penton movie. He did an hour and a half interview with me in California and I am in the movie twice for about five seconds. When the movie came out, I went to two of the showings at the movie theaters. One was in Sacramento the other was in Placerville, which used to be called Hangtown before they changed the name. In watching the movie I learned some things about John Penton that I did not know. After traveling with him all those times and being at meetings with him I thought that I knew all about him.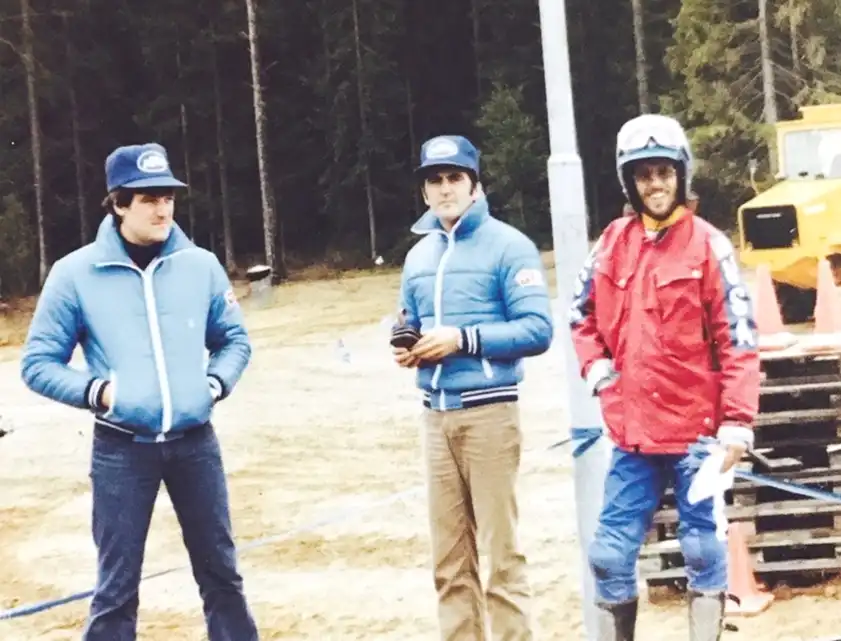 I am blessed for being involved with motorcycles, the racing and all the wonderful people that I worked for and was involved with. Without these contacts I would never have been able to travel to Europe and meet some of the people involved in the motorcycle industry. This was a great experience for me during this lifetime. I wouldn't trade these memories for anything.