Dave Mungenast
by Ed Youngblood
Originally printed in the 2006 issue #33 of Still….Keeping Track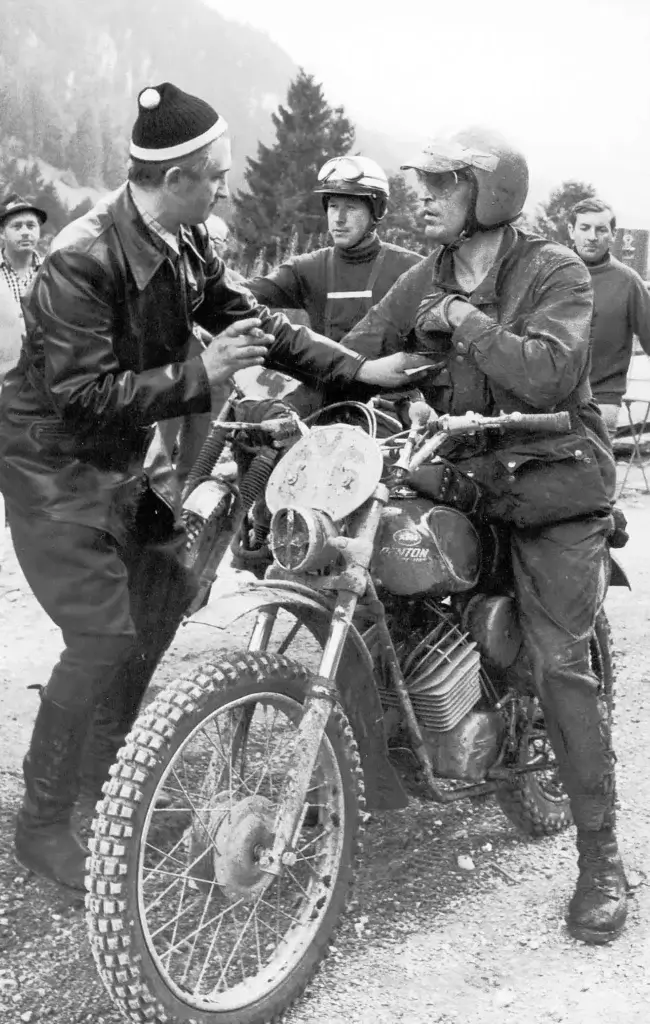 Dave Mungenast was a man of many parts who seemed to earn success at everything he tried. Though he built a business empire in automobile sales and commercial real estate, his first love was motorcycling, and it remained the activity where he maintained his dearest friendships even as he expanded his involvement in other spheres of business. Only now, following his untimely death, is it becoming understood just how much Mungenast achieved as a pioneering motorcycle dealer, a world-class endurance rider, a motion picture stuntman, in automobile sales and commercial real estate, and as a philanthropist who generously supported many national and St. Louis-area nonprofit organizations. His friends and colleagues in one area of his life often knew little or nothing about his activities in another, not because he was secretive, but because he was a deeply modest man who always focused his conversations on the interests and achievements of others rather than himself. Within the greater arc that was Dave Mungenast's life, the Penton motorcycle might be mistaken for only a footnote. It was one among many brands he rode and sold, and in the nine times he rode the ISDT, only a third of those were aboard Pentons. However, the amount of time he spent in the saddle of a Penton does not tell the whole story. Far more important than his involvement with the brand was his friendship with John Penton that, over the years, became a kind of brotherly love that the most fortunate of us can achieve only a few times in our lives.
Dave Mungenast was born on October 1, 1934 in South St. Louis, an area that had been populated during the 19th century by educated and industrious Germans. High achievement was modeled throughout his family history, including an ancestor who had been one of the master builders of Gothic cathedrals in Europe, and his own father who became a co-founder of the Junior Chamber of Commerce in October 1915. Dave was the fifth among six children, and all of his older brothers earned honors in school, and some went on to achieve distinction in World War II and subsequently in their business careers. To the contrary, Dave earned a reputation as the black sheep of the family, getting expelled from several schools and helping found a motorcycle gang that he and his buddies called "The Dirty Dozen." Years later, one of them would say, joking, "I think there were seven of us." Dave's first motorcycle was a used 1946 Indian Chief that never made it home because he wrecked it along the way, and his first new motorcycle was a 1954 BSA Gold Star. As bleak as his future may have looked to his parents at this time, it was motorcycling where Mungenast found an interest on which he could focus his energy and entrepreneurial talents. Working at Bob Schultz's shop, he became a skilled mechanic and learned sound business practices, and his preference for off-road motorcycling taught the skills that would eventually earn him notoriety as a world-class rider and Hollywood stuntman.
Dave met Barbara McAboy at Mary Ann's Ice Cream Parlor, the local teen hangout, in 1953, the same year that he and his off-road motorcycling buddies formed the Midwest Enduro Team. He and Barbara dated for a while, but his half-hearted efforts at St. Louis University were going nowhere and he dropped out to join the Army, signing up for Airborne and the Special Forces, not because he was gung-ho but because it gave him a higher pay grade. In the Special Forces, the previously shiftless Mungenast learned of his inherent leadership ability and gained confidence in his physical skills. In addition to Airborne he became an underwater demolition expert and was later sent to Korea where he was selected as a member of the elite Honor Guard. Dave Larsen, his lifelong friend and employee, says, "In the service, Dave learned how to focus. He returned to St. Louis a different man." It is likely that being a Green Beret was not the only factor that changed his life, because upon coming home he began to see Barbara again, and married her in January 1959. On April 1, 1960, David, Jr. was born. In addition to being a new father, Dave, Sr. was holding down two jobs and completing a degree at St. Louis University. It was as if Mungenast had made a commitment to leave behind his teenage rebellion to become a good husband and father, building on what he had learned about his character and inherent skills through service in the Army.
One of Mungenast's two jobs was back at Bob Schultz's motorcycle dealership. The postwar American motorcycle sales boom had begun, and when Schultz opened a second shop, Dave became general manager of the original store while still performing his duties as a mechanic. Honda had just come on the scene, and Dave was quite impressed with its design and quality. In 1964 Dave won a 24- hour national championship marathon at Riverdale Raceway near St. Louis aboard a Honda scrambler, giving the brand its first national championship in America. He won the event again in 1966. Dave felt there was a great future in motorcycling, and Schultz thought there was a great future in Dave. Schultz tried to get Mungenast to come into the business as a 50/50 partner, but the young father could not come close to the price of buying in. He told Schultz, "I can't raise that kind of money. I could probably get my own Honda franchise for less than that." Schultz encouraged him to take this course with his blessings, and in January 1965 Mungenast opened his new Honda store in a small storefront on Gravois Road in South St. Louis. Dave Larsen recalls, "We would uncrate and prep motorcycles late into the night, and by close of business the next day they were all gone." With success seeming to come easy, by the end of 1965 Mungenast acquired a Triumph franchise to expand his product line. He and Bob Schultz remained fast friends for the rest of Dave's life.
But things changed as the war in Vietnam heated up. Credit to buy a motorcycle became impossible for any young man with a 1-A draft status, and Dave's business began to go sour. The Mungenasts now had two young sons (Ray was born in July 1961) and Dave had expanded into automobiles, taking on a Toyota franchise in 1966 before the downturn had begun. Despite the good reputation Honda and other Japanese brands had established with their motorcycles, Americans still did not think much of little Japanese cars, and it became a struggle for Dave to keep his business going and provide for his family. Still, in these difficult days, Mungenast found the time to pursue his personal passion for offroad riding. Edison Dye and John Penton had become Husqvarna distributors, and Mungenast added Husqvarna to his product line. John Penton had met Dave at national enduros, and he recommended to Dye that Dave become a member of a team they were forming for the ISDT that would be held in Poland later that year. Suddenly, Mungenast found himself among America's greatest off-road riders – John Penton, Leroy Winters, Malcolm Smith, Bud Ekins – and in world class competition. Like any new and unseasoned IDST rider, Dave was over-excited and tried too hard. Smith recalls, "I followed him, and I have never seen anyone crash so many times and still finish." And astonishingly, riding a Husky that looked like it had been put through a crusher by the final day, Mungenast won a gold medal. He was hooked on the Six Days and set a personal goal of riding ten in succession.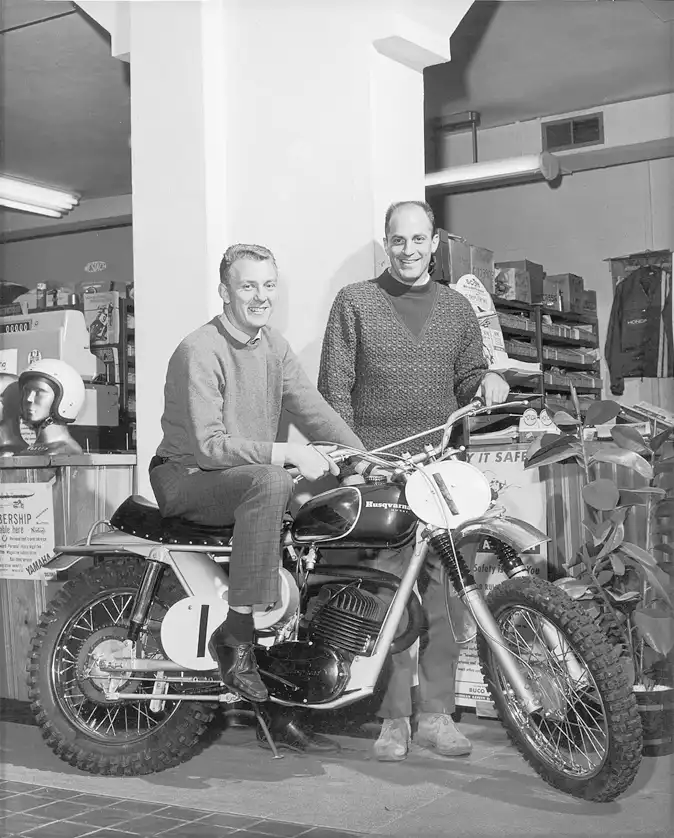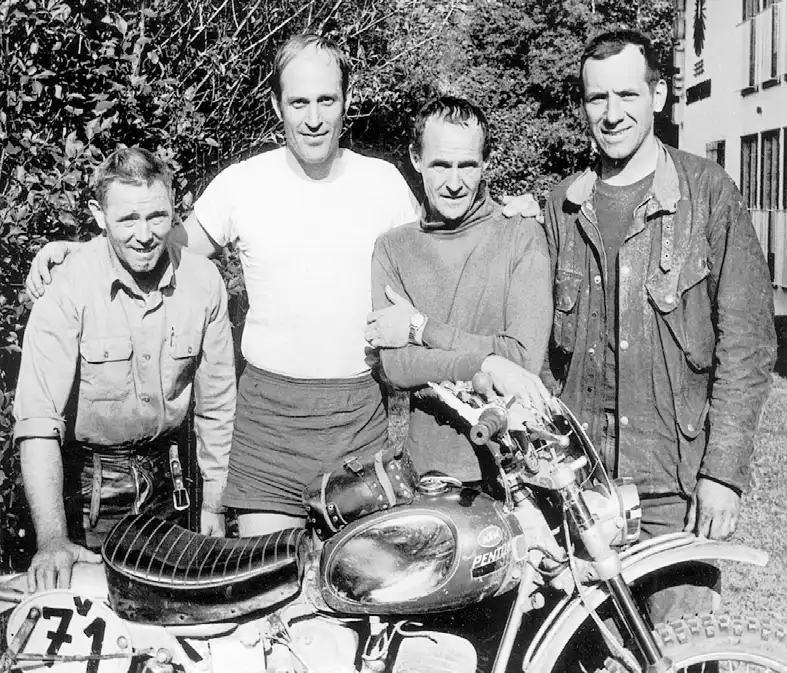 Early in 1968 John Penton introduced his namesake motorcycle, and later that year Dave Mungenast was invited to ride a Penton-sponsored U.S. Vase Team along with John, Leroy Winters, and Bud Green. It may have taught him about beginners luck, because this time he did not earn a gold medal, nor a silver. Still, he finished the event to earn a bronze, which is no mean feat. Riding that year created considerable stress in the Mungenast household because Barbara was pregnant with their third son Kurt, and she was due while Dave was away. But, thankfully, Kurt decided to be late and was not born until Dave returned home. Twice more Dave would ride a Penton at the ISDT, in 1969 in Germany and in 1971 at the Isle of Man. In 1970 in Spain he switched to Husky, which did not bring him luck. It was his first time to fail to finish due to a disastrous crash where he knocked himself unconscious and broke several ribs. For his last two Penton rides he earned silver in 1969 and gold in 1971. Mungenast would ride the ISDT four more times. A factory Honda ride brought his second DNF in Czechoslovakia in 1972, he rode a Triumph to silver medal in the United States in 1973, then for Rokon in 1974 and 1975. In Camerino, Italy in 1974 he earned bronze and at the Isle of Man in 1975 he failed to finish due to injury. There are several stories which prove that Dave Mungenast – just like John Penton – was a true-grit, never-say-die endurance rider. In 1969 Dave separated his shoulder on the first day at the Jack Pine, on the eve of leaving for the ISDT in Germany. A friend took him to the hospital, then said, "Well, I guess we can head back to St. Louis." Dave said, "No, I have to ride tomorrow, and no one can tell John. If he learns I'm hurt, he might cut me from the team." During qualifying in 1974, Mungenast broke his hip. Still, he made the team and rode his Rokon to a bronze medal that year. Also, he may be the only man to have won his class at the Jack Pine with a broken leg!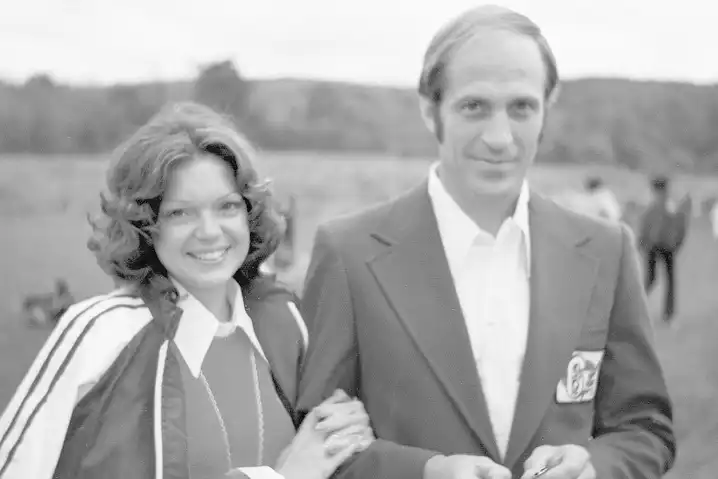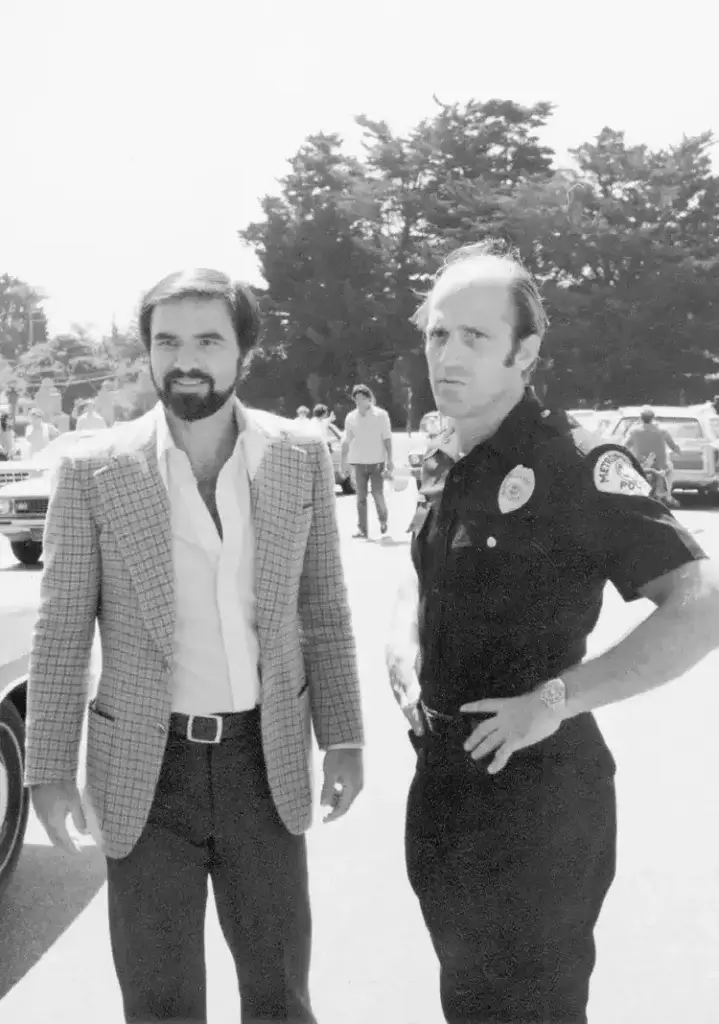 Mungenast never fulfilled his ambition to ride ten ISDTs in succession. In 1976 he failed to qualify for the American team. He probably could have gotten a ride through Canada or Mexico, but he had opened a new Honda automobile store in 1974, and the businesses were still struggling. Later he would see it as providential that he did not ride the 1976 ISDT. He explains, "Otherwise, I would not have been home to take that phone call." The phone call he was talking about was from an old friend, Stan Barrett, who was pursuing a career in Hollywood. Barrett recruited Dave to do stunt work for several Burt Reynolds movies, including "The End," "Hooper," and "Cannonball Run." Over the next eight years he would also work in "Airport 77," "Stormin' Home," "Harry and Son," and "Welcome to Paradise" where he and two other riders jumped their motorcycles off of a pier into the ocean. He described the stunt, which earned a nomination for Stunt Man of the Year, as the most frightening thing he had ever done in his life. As a stuntman, Dave got to work with Paul Newman, Jackie Chan, Christopher Lee, Jack Lemmon, and many other stars in addition to Burt Reynolds, and it turned him into a bit of a local hero in St. Louis. The radio and newspaper interviews that resulted from this work put his name in front of the public, and by the time Mungenast's career in the movies came to an end, his businesses were beginning to turn the corner. His Honda store had become so successful that the company chose Dave as one of only 50 dealers in the nation to open an Acura dealership when the new brand was introduced in 1984. Subsequently, he opened a Lexus dealership in St. Louis and acquired a Toyota/Dodge dealership in Alton, Illinois. Over the years, he developed such a reputation for fair dealing and customer service that his stores almost never advertise. Rather, they rely on word-of-mouth from satisfied customers. Dave, Jr. explains, "today, the only time we do any conventional advertising is when one of the OEMs offers a co-op promotion so good that we would be foolish to turn it down."
As the three Mungenast sons – Dave, Jr., Ray, and Kurt – matured and took over the day-to-day management of the dealerships, Dave and Barbara began to find more time to devote to philanthropy and community service. They created the Dave and Barbara Mungenast Foundation through which they have supported many charitable organizations. Also, Dave devoted his time and experience to service on the boards of the Motorcycle Hall of Fame Museum, the Wheels Through Time Museum, St. Anthony's Medical Center, and other non-profit organizations. They have been big supporters in both time and money to the Boys' Club of St. Louis, the YM/YWCA of South St. Louis, and Marygrove, a Catholic organization that helps young people at risk. He has also been chairman of the American International Automobile Dealers Association. Through these activities, the Mungenasts have met with many government leaders, including three presidents: Ronald Reagan, George H.W. Bush, and Bill Clinton.
Many early Honda dealers who got their start with motorcycles then got wealthy selling cars began to behave as if they were too important to mess with the "lower class" business of motorcycling. This was never the case with Dave Mungenast, and he proved his dedication to motorcycling when in 2000 he opened Classic Motorcycles LLC, a free-admission museum in the very store front on Gravois Road where he had his first automobile dealership. Over the years he had accumulated an impressive collection of rare and beautiful vintage motorcycles, and these have been placed on display along with the collections of other enthusiasts. For example, Bob Andersohn's amazing collection of steel tank Pentons can be viewed at Classic. The facility often opens its doors to special events, including gatherings for motorcycle clubs. It is under the management of Dave Larsen, who joined the Mungenast organization as its first employee in late 1964.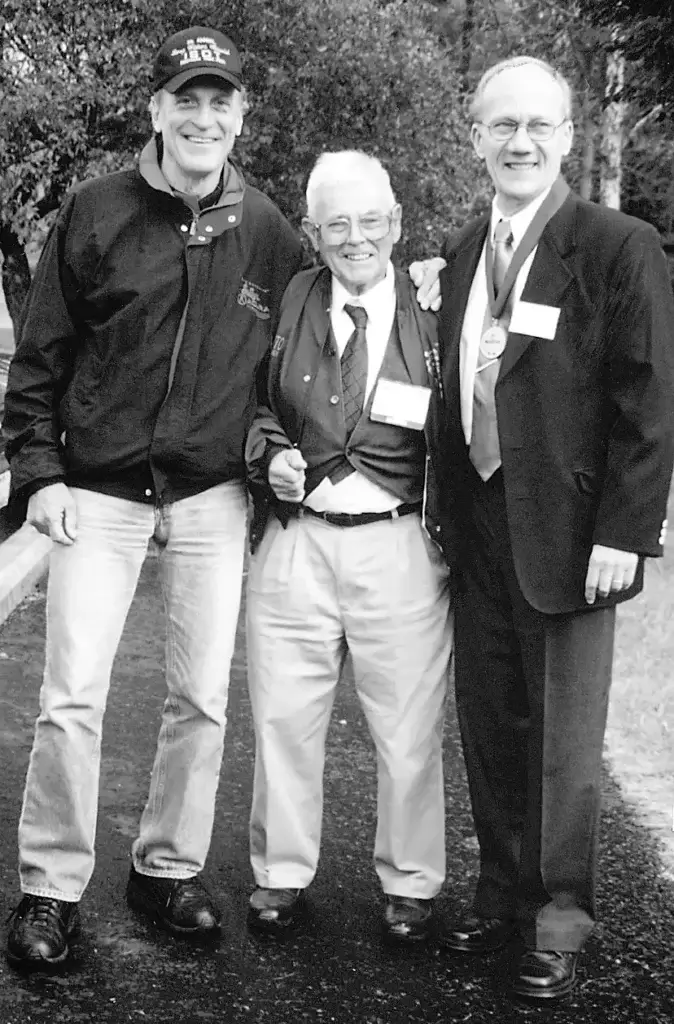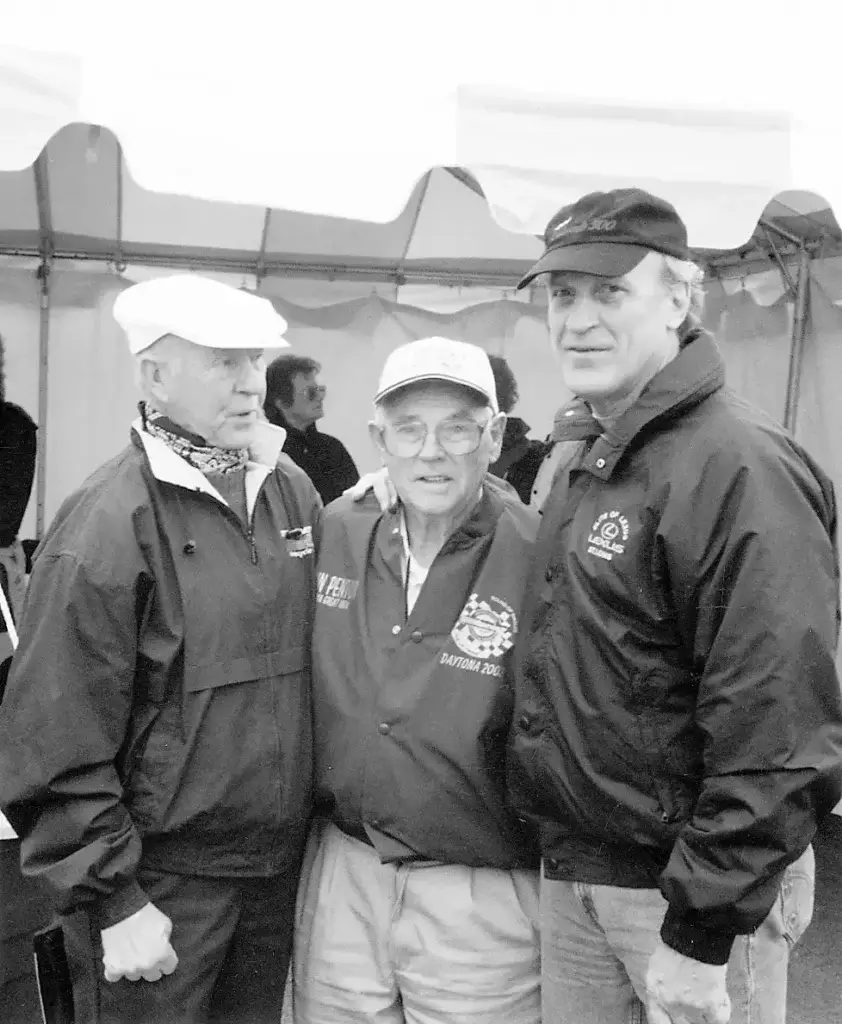 Those who were close to Dave Mungenast understand that yet another chapter of his life was only beginning. With the boys and veteran employees keeping the businesses humming, Dave and Barbara were beginning to enjoy the fruits of their lifetime of work. They had acquired large tracts of land in rural Missouri. On one they had built a retirement home where they raised horses, bison, llamas, and cattle, and hosted their thirteen grandchildren to visit and ride ATVs with Dave. On the other – near Branson – Dave had big plans to restore the old town of Garber as a historical and cultural center. He had other plans for holdings near the Mungenast marina at Lake of the Ozarks. Barbara had been developing her career as a fine artist for many years, and had begun what will be her masterpiece, a larger-than-life patriotic bronze monument that will be displayed at Fort Myer, Virginia. And Dave was finding time to continue his love of off-road motorcycling, riding the Colorado 500, Malcolm Smith's Baja Ride, and other charity events. By all appearances, it seemed that this man who had accomplished enough for several lifetimes would easily put another ten to fifteen years into his grand plans. Speaking of Dave's physical fitness, less than a year ago Malcolm Smith said, "At 72, Dave is a man who rides a motorcycle like a good 50-year-old."
Tragically, early in 2006 Dave began to experience some unusual memory loss and weakness on the left side of his body. But it was with Barbara where the crisis began when on April 26 she had a heart attack. With St. Anthony's medical center only a few miles from their home, Barbara drove herself to the emergency room, demonstrating the self-reliance she had learned during the years when Dave was away so much pursuing his business and motorcycling careers. It was a mild attack, and the prognosis was hopeful, but three days later additional bad news arrived. Dave had been checked out for his recent symptoms, and on April 29 he was diagnosed with brain cancer. Thereafter, his decline was swift, and in July he was admitted to hospice. Dave died on September 20, 2006, leaving his family, friends, and more than 450 employees still stunned in disbelief. For a period of time during his illness, Dave and the family would accept no visitors. With the typical attitude of a great endurance champion, he was determined to win, choosing to focus all his energy and concentration on the fight. But when he accepted that he would not recover, Dave turned his attention to the friendships that had meant so much to him. John Penton was one of the first people he asked to see, and among the others were Malcolm Smith, John Sawazhki, and other great motorcycling friends.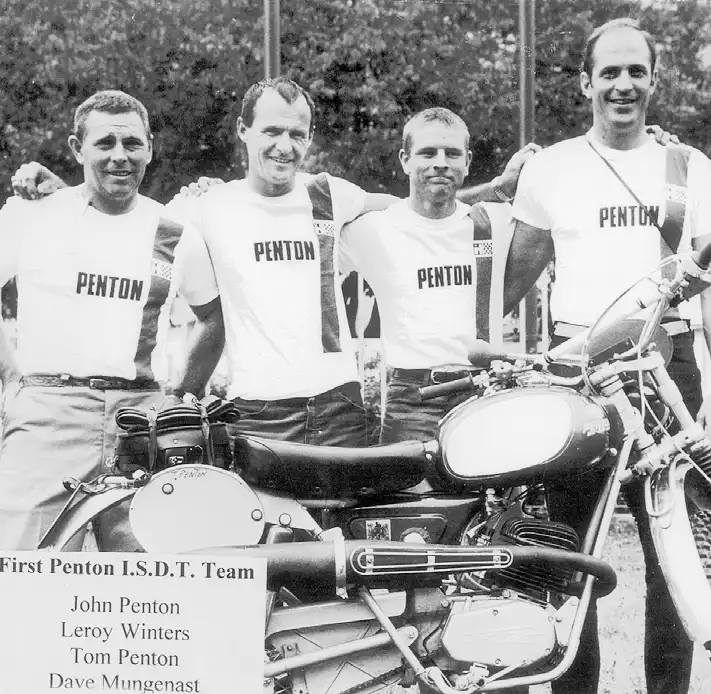 In 1975, the year when Dave competed in his last ISDT, the Eagles released their hit song "Take it to the Limit." It became his favorite song, and its title seems to embody the attitude with which he approached every aspect of his life. Whether it was endurance riding, stunt work in the movies, or big risks in business, Dave Mungenast took it to the limit, always doing his best to excel in whatever he did. A biography about his life has just been published and is entitled, "Take it to the Limit: The Dave Mungenast Way."
---
Bikes
Dave Mungenast's son Ray founded the Classic Bike Headquarters motorcycle museum in Villa Ridge, MO which includes Penton motorcycles. More info at https://classicbikehq.com/

The Mungenast family also has Pentons on display at their dealerships in St. Louis, MO. More info at https://www.mungenastmotorsports.com/