George Bliss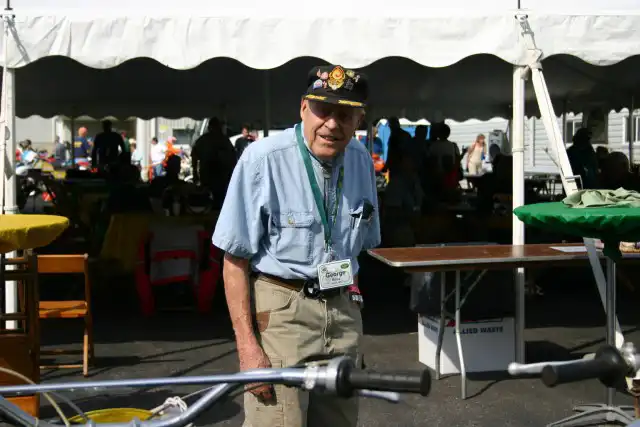 ---
BEEN THERE, DONE THAT
by Alan Buehner
Originally printed in the 2013 issue #60 of Still….Keeping Track
George was born on July 8, 1924 to Leah (Barnes) and Orlando Dean Bliss. His father, known as O. Dean, was a 2nd generation farmer on the family homestead in Avon, Ohio. The farm has 94 acres of land where George's grandfather, George Eugene Bliss, grew a variety of crops and raised a few cows and horses. Dean went to college and graduated from The Ohio State University in 1916 where he majored in horticulture and animal husbandry. One of his college buddies was Harold Penton (John Penton's father). Like Harold, Dean had a motorcycle, an Indian, that he also used for transportation to and from OSU. These years were way before Rt 42 came into being and they had to go to Rt 4 south from Norwalk on the all gravel road to reach Columbus, Ohio and OSU. Harold met and married Nina Musselman, also a student at OSU. Dean and Leah kept close ties with the Penton family and their families would occasionally get together and socialise.
Sometime in the late 20s Grandpa purchased a house on an acre of land on the Williamette river (north of Salem, OR) where he grew nuts and fruit trees. He purchased this property to spend his winters where the weather there was much milder than the winters in Ohio. He would return back to the farm in the early spring to enjoy the Ohio summer growing season. In those days he would do his traveling to Oregon and back via train hauling his belongings in a steamer trunk. In 1934 grandpa died when he was hit by a car on the side of the road in Avon.
In 1936 Dean temporarily moved the family to Oregon for four years to dispose of his father's property in Oregon. They traveled to Oregon in a seven passenger Packard. When news of Harold Penton's death reached Dean, he cried. Nina Penton sent her daughter Mary Alice (John Penton's sister) out to Orgegon to live with them to help heal the loss of her father.
George was the oldest of 5 children. He had three brothers; Frank, Darwin and Cyrus, and a sister, Virginia Dean. Frank died from a tragic accident in Oregon and Darwin died from a rare disease that the doctors can now treat. Cyrus is still alive today where he owns his share of the family farm in Ohio. Virginia Dean is still alive and lives in Texas.
George did not get involved with farming. He had asthma which made it difficult for him to work out in the fields, especially during grain and thrashing season. He graduated from high school at the age of 16 and shortly after, bought his first motorcycle, a used Indian 4, which the seller delivered on a an old Indian 4 with a sidecar platform. This was short lived in that the seller, in working on the engine, left out the keepers on all the wrist pins. The loose pins cut grooves into the cylinders walls and this caused the engine to smoke badly. In the summer of 1941 he obtained a summer job working for Ike Penton on the Penton family farm. He remembers Bill Penton picking up an orchard ladder and swinging it around to put it away and in the process breaking a window on the barn. Ike was upset about that and scolded his much younger brother.
In 1943 at the age of 18 he was drafted and entered the Army and became actively involved in WWII. He was trained and assigned to an Ordnance Depot Company. His outfit was shipped over to Scotland and then sent by train to Tidworth, England where the Company set up a Field Depot for the build up for the invasion on D-day. The night before D-day he was assigned guard duty where he saw the seemingly endless flight of planes heading over to France to drop bombs, paratroopers, and glider planes. After the invasion and the Allies were on the drive to push back the Nazis, his unit was transported and stationed at a Base Depot in Vincennnes, near Paris. He spent the rest of the European war at this Depot where his unit serviced and supplied parts for jeeps, tanks, and trucks. After the Nazis surrendered, his unit was getting ready to be transported to the Pacific to aid in the fight against Japan. Fortunately, while on furlough in the US the Japanese surrendered and he was discharged a few months later.
He was married in 1945 to his first wife Kay, and they had two children, Karen and David. The marriage only lasted three years.
In early 1946 he couldn't get a job right away. He bought a used Harley 80cc flathead which had a 3speed /reverse tranny and then bought a side car for it. He sold the sidecar rig and bought a 1938 61c.i. Harley knucklehead for street riding. He entered The Ohio State University in the fall where he studied mechanical engineering. It was a 5 years course where he earned a bachelor of mechainial engineering degree and graduated in 1952. He paid for his own education with help from the GI Bill and would take time off for "work breaks". He spent some of his free time hanging around the Penton Brothers motorcycle shop. Bill Penton also went to OSU during this time period and he rode a BSA to and from OSU on his trips home. It was on one of these trips that Bill crashed and broke his foot. He wound up riding a Harley with a side car while his leg was still in a cast. Once he was healed up, he was back on the BSA. Bill also rode some enduros around Columbus and talked George into riding some of them on his 1947 350cc BSA with a solid rear that he had acquired. Of course earlier George would listen to Bill, Ted, John, and Ike talk about the Jack Pine enduro when he would hang around their shop. One of the stories was of Bill riding his first Jack Pine on a Harley 45. Bill finished the event and their mother was perplexed about his brothers sending off their younger, inexperienced brother on such an adventure.
One of his first jobs was at the Fruehauf Trailer plant in Avon Lake which he would work at off and on during his college years. He eventually wound up working at Bendix in Elyria after he was graduated from college. He worked at Bendix for 22 years where he started out as a test engineer and he finally earned the title of Senior Engineer. He then went to work at W L Tanksley Consulting in Cleveland. His connection with the Tanksley Consulting firm landed him a job with Eveready Battery Company in Cleveland on a contract basis. He was then hired by Eveready and he was employed until his retirement at age 65.
While still in College, in 1951, George took his first stab at the Jack Pine enduro aboard his '47 350cc BSA and finished the event. In 1952 he sold the BSA and rode the Jack Pine on a band new 1952 Harley "K" model on which the frame broke and he did not finish the event. He rode the same Harley with a new frame in the 1953 and 1954 Jack Pines with the same result – a broken frame and DNF. In 1955 he rode the Jack Pine with a new factory redesigned frame and finished. In 1956 he bought Bill Penton's '53 500cc Alloy cylinder BSA (this was the bike that Bill won the 1954 Jack Pine with) and rode it in that year's Jack Pine where he finished.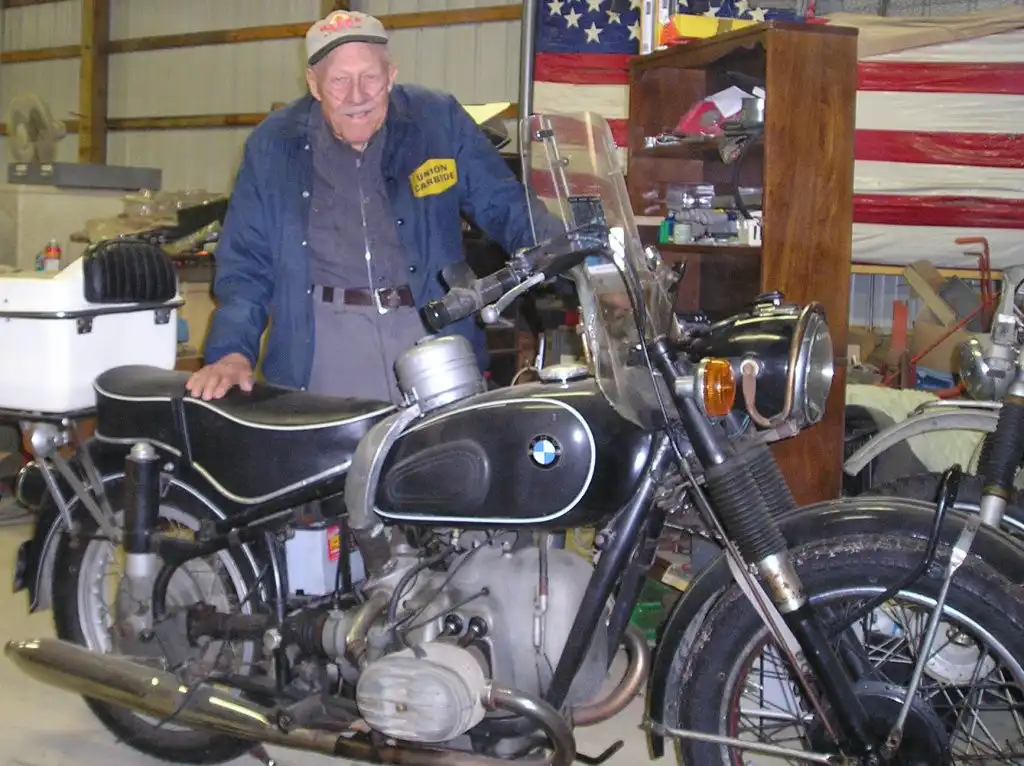 In 1957 he did not enter the Jack Pine. He had bought a brand new BMW R50/2 from BMW dealer, John Penton and he did not have it enduro ready. He instead rode it to the Jack Pine to spectate. By this time, George was in close company with the Penton boys. They would ride their bikes together in a group to and from the events. At the end of the first day, which ended in the city of West Branch, Michigan they would spend the nights at an "Old Folks Home". The arrangements for meeting at the Penton motorcycle shop to go to the Jack Pine would always be the same. They would tell him to be there well before 7 am. When he would arrive, their enduro bikes were all in parts and we would not leave until 1 or 2 in the afternoon after they were put back together.
It was at the 1957 Jack Pine that John broke his foot while riding his BSA. He left the bike out along the trail and was transported to a hospital. Ted asked for George's assistance to retrieve John's bike and the two of them rode out on Ted 's Harley. They found the bike just off the course where John told them to look for it. Ted noticed a rock in the trail that was actually the top of a boulder sticking up out of the trail. A little further along the trail was a small tree stump sticking up. From these clues, Ted determined that John's BSA's front wheel struck the rock, breaking some of the heads off of the spokes nipples. As John went to upshift his foot got caught between the stump and foot peg, wrapping his foot around the foot peg. Ted got the BSA started and rode it along the trail until they came to a side road. While rinding down the side road the front wheel started to get wobbly to the point where it wasn't going to go much further. He slowed down until they came upon a shed with no house in sight. Inside the shed was a vice but no tools. Ted set about removing the wheel and removing the flat tire with tools that they had on Ted's bike. About that time the farmer that owned the shed came by and while Ted explained to him what they were doing, he kept busy removing the broken nipples and all the spokes. He then relaced the wheel, spreading out the good spokes and nipples that remained. He gave George the inner tube with instructions to take it somewhere to get it patched up. George rode off with the tube and after getting more than seven holes patched up (from the spokes that punctured it) he arrived back at the shed just as Ted was finishing lacing the wheel. After reinstalling the wheel on the BSA, Ted led George down the "grade A" slag road back to town. Now if it were you and me riding that bike with missing spokes, we would be riding real careful, but not Ted Penton. He sped away on that bike like there was nothing wrong. He trusted his "emergency Jack Pine repair."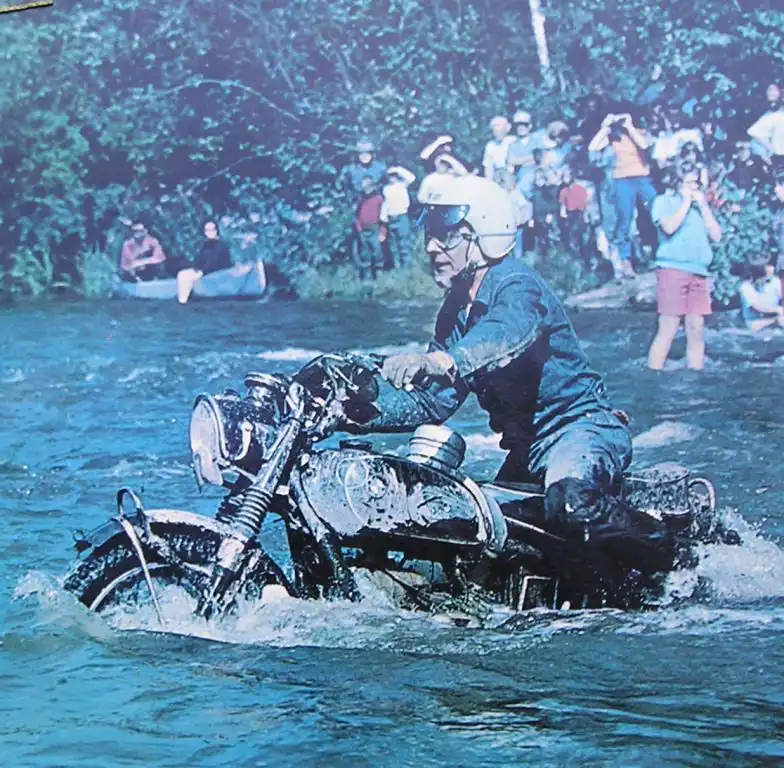 1958 was the beginning of a 9 year run of the Jack Pine on the BMW. In 1958 he did not finish because of deep water. Because of this, he used his engineering skills to make a snorkel from the air intake on the engine to an air box on top of the gas tank. Other modifications were made to the bike to make it water proof (see list of modifications to turn a BMW into an enduro bike). In 1959 and 1962 thru 1966 he finished the events. In 1960 he did not finish when he gave out on the 2nd day. He did not enter the event in 1961 because he went to Camp Firebird where he met his present wife, Liane and they were married soon after. They have been married for 52 years and this was the best thing that happened to him. Liane had a daughter, Christine, from a previous marriage and George adopted her.
In 1967 the Jack Pine was canceled because of vandalism during the 1966 event in West Branch by non-contestant cyclists.
When the Jack Pine was moved to West Branch from Lansing, the bikes were improving and the riders wanted more challenges and the course became tougher.
George rode the 1968 Jack Pine on a 64' 350cc BSA and did not finish when he houred out on the 2nd day.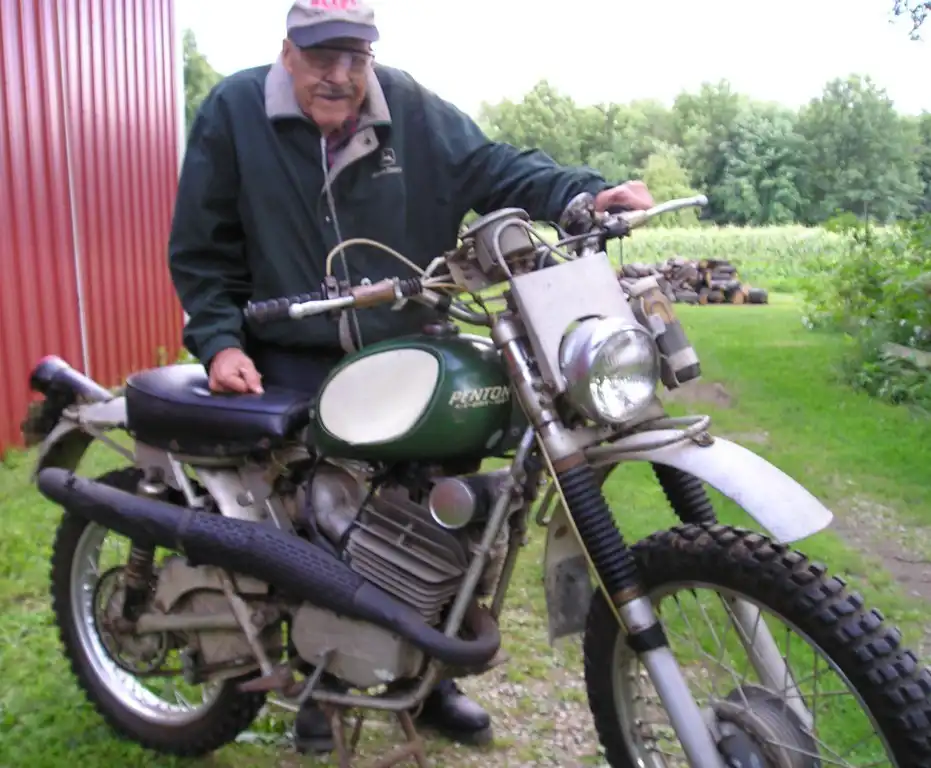 In 1970 he purchased his 1970 Steel Tank Penton 125 and rode it in the Jack Pine. He did not finish on the 1st day when he houred out. Only 11.9% of the contestants finished that year's event. This was the last year that George rode the Jack Pine. The course became so tough that he could not finish the last 3 events, even on the Penton, and he gave up the competition. Out of 17 Jack Pine starts, he finished 9 times.
George was a lot like John Penton. The Jack Pine became his passion. It was the biggest enduro event in the US and riders came from all over the US to ride it. The difference was that John rode to win and George rode to finish. Like John and his brothers in those days, in order to have an "enduro" bike, you had to modify a big, heavy street bike to make it work. It was a matter of trial and error to figure out what worked and what didn't. Where John was going along the path of "smaller is better", George found the ways to make his BMW work and stayed with it. He owns 3 bikes today, his 1957 BMW, his 1970 125 Penton, and a 1981 BMW R65. One of the things that he learned from John Penton was to add an extension to his shift levers. A short extension would be welded to the back part of the shift lever to turn it into a heel/ toe shifter. The reason for this was to keep from putting your foot under the lever and running the risk of injuring your foot. He added this lever to his 81 BMW even though it was used only for street riding to avoid confusion when switching bikes.
George's Penton sat in his barn collecting dust up until the Penton 40th anniversary event. He showed up at the event with his Penton after Doug Wilford cleaned out the dried fuel and made it rideable. I remember seeing him on Sunday when everyone was getting ready for the ride to John's house. There was George sitting on his Penton with a grin from ear to ear. To an outsider it may have looked like there was an old man sitting on an old dirt bike, but I saw a young kid joyfully waiting to go for a ride with his buddies.
---
How to turn a 1957 BMW into an Enduro bike
This is a listing of the modifications that George Bliss made to his bike which he rode enderos on from 1958 thru 1966:
Front end – original Earls forks removed and1950's BSA forks installed
Front Fender – 1935 Ford spare tire cover
Air Cleaner – relocated to top of gas tank via hand made and gas welded alumininum ducts
Rear Drive – 7/27 sidecar drive hub
Under gas tank breather -
gen/ magneto cavity
carb float bowls sealed and vented
air inlets for idling mixers
Crankcase breather – a/c fuel filter check valve
Speedometer – Harley Davidson with resettable trip, headling mounted with gearbox
Mufflers – Alumininum Burgess, rebuilt to accommodate VW Beetle tail pipe tips – removeable to allow reinstallation of original pipes for street riding
Footpegs – shortened 1 inch
Skid Plate – fabricated out of 1/8" plate steel to cover exhaust pipes and crank pan – removeable for street riding
Rear Fender – lower section removed – mud flap, lift handle and tail light added
---